With the plethora of sparkly and shiny things made for gun girls these days, it's pretty easy to find a gift for a shooty girl.  But what about those gun guys?  It can be quite a challenge for ladies to find the right gun gift for their better half, especially if you don't know the difference between a revolver and an open race gun.  Stop stressing ladies, here's a list of gun gadgety goodness that will please even the most discriminating tastes.
Under 25 Bucks
Tactical Bacon – You can never go wrong with bacon.  For about 20 bucks, you get about 18 servings of bacon with a 10 plus year shelf life.  This would make a great gift for the Christmas gift exchange at work, or as a stocking stuffer.  Available all over the internets.
A Good First Aid Kit – Thanks to Suburban for suggesting this essential item in the comments section.  These inexpensive level 2 kits come in handy at the range for slide bites, splinters and all sorts of other minor maladies.  We've got a kit very similar to the one above, and it easily fits in a small to medium range bag.  About 15 bucks at Bass Pro.
Under 50 Bucks
Otis Technologies Cleaning Kits – I love my Otis kit, and I don't know any guy who shoots that wouldn't either.  For less than 50 bucks, you can get a rifle, pistol or universal cleaning kit that's just a little bigger than a hockey puck.  Brownells has a really good selection of Otis kits at reasonable prices.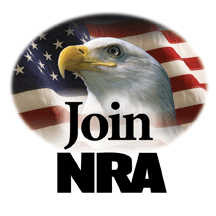 An NRA Membership – Support the organization that protects and defends his Constitutional right to bear arms.  Get a one year membership for $25 ($10 off) through this link.
A Good Multi-Tool – Get him a high-quality multi-tool for his range bag, and he'll be prepared for just about any minor malfunction or gun issue on the range.  You can't go wrong with the Leatherman Brand, and Cabela's has a good selection of them within the $30 to $100 range.
Under 100 Bucks
VZ Grips – If the gentleman in your life owns a 1911, a set of VZ Grips could be the perfect present.  Those are mine in the picture above, they're the Operator 2's in Pink Zebra, and they are grippy and awesome!  They've got plenty of other colors besides pink, and several textures to choose from.  Get 'em at VZ Grips.
A Nice Leather Gun Belt – Handmade in America by a fellow blogger, these handcrafted leather belts are both stylish and strong.  My guy bought one a couple of years ago, and it still looks new.  The belts start at $75 bucks, and can be ordered at thebestbelt.com
The Sky's The Limit
Gun Gift Cards – If you're still not sure what gun gift to choose, get him a gift card to his favorite gun shop or outdoor store.  Outdoor retailers like Cabelas and Bass Pro Shops and online retailers like Midway USA and Brownells have a wide variety of shooty stuff.  Price – Depends on your budget.
So, you say your significant other has everything and you just won Powerball?  The Dillon Aero Standard M134 just might be exactly what you are looking for.  It may look a little like a leaf blower in the photo above, but I assure you it will be much more fun (and noisy) to use.  The estimated cost is JUST $50,000, plus accessories.  If you're still on the fence about making the purchase, here's a video to help you make your decision (helicopter not included). Inquire at Dillon for ordering information.